Applying for agency jobs, even junior or graduate roles, can be quite competitive.
Some require small tasks to be completed in order to showcase your ability to solve an example brief. This is fairly uncommon though, most will just ask for a face to face interview so you can talk through your portfolio. It always helps to tailor your portfolio to the agency's sector focus or their services or create a unique presentation for your work – even if it's development work.
Daisy Swain, a Digital Designer for MadeBrave, studied Applied Graphics Technology with Multimedia and graduated with an Honours degree from Glasgow Caledonian University. Graduating just before the 2008 recession, she had difficulty landing her first industry role:
"I mistakenly took the summer off and then regretted it once the jobs completely dried up after the recession hit. I ended up working for Tesco for a couple of years before I found anything design-related, and when I did find something it was three days a week and originally offered to me at below minimum wage. I managed to get it above that before I took it, but it was pretty poorly paid generally, even after I'd been there a while and was bumped up to full-time hours."
Very few people walk out of University and into a job related to their degree or interests. Relevant experience can be hard to come by so people often suggest that working in this industry for free, or even minimum wage, for a short period is a good idea to bolster your CV and portfolio.
unpaid
but if you're good
lots of work

— For Exposure (@forexposure_txt) November 1, 2016
This doesn't work for everyone, as not everyone can afford to do so. Frankly, no one should be expected to either. Daisy explained how she thought her course could have done a better job of preparing her for work:
"I wish my course had actually involved us in placements though, that would've been much more useful than half the stuff we were taught. Even doing some portfolio work with us in our final year would've been great preparation for heading out to look for jobs. I wish I'd known how approachable people in our industry usually are. I never sought out any kind of work during University on my own because admittedly, I lacked confidence."
People who work in digital are surprisingly approachable, maybe not seniors or management, but you are likely to get a response if you message someone directly enquiring about available jobs or internship opportunities. Especially via Twitter, where some Social Media Manager is getting paid to tweet out blogs and reply to any old shit you decide to send them. You might not always get the response you want to hear but it is sometimes worth a try.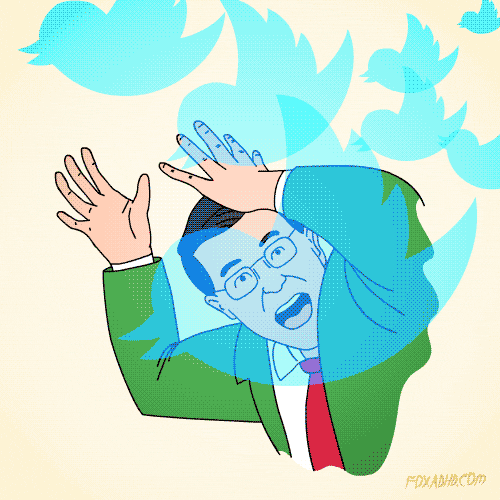 Average social media manager living their nightmare existence
Many grads are going to have trouble finding a job so soon after completing University but doing your own personal projects while working in retail or food service can give you an avenue to develop your skills and some additional work to showcase. It doesn't matter if you no longer have coursework, you should never stop developing your skills. Most importantly, agency professionals don't mind being politely approached for advice and potential opportunities, especially when you do something big or ridiculous to get their attention.
< Back to Stories