Unless you're very lucky, freelancing or starting your own digital business straight out of University can be a very risky idea. A positive attitude or calling yourself an entrepreneur isn't going to be enough. Having an existing bank of industry contacts and the confidence in your work to approach people directly is a huge head start.
Andrew Nicolson, a designer and motion graphics specialist currently employed by Front Page, who studied Applied Graphics Tech with Multimedia at Glasgow Caledonian, caught the eye of an industry professional with his coursework:
"A guy came to an end of year show and gave me a shot at doing some work for the agency he worked with at the time. When he moved on he continued to throw projects my way while introducing me to more contacts who, when they moved on, continued to feed me work too. I survived as a freelancer due to these few contacts, their referrals and the odd job that found me organically."
Receiving enquiries about jobs organically, by which I mean people finding your work through a search engine and contacting you directly, is a rarity. With such fierce competition for digital work, you can't just put up a website and have any jobs rolling in without promoting yourself properly and some excellent presentation work. Asking your friends to like a Facebook page or posting your website on LinkedIn or Twitter will not convert to sales. By all means, make your friends and colleagues aware of your skills in hopes that they recommend you but be aware that this is not a sustainable way of bringing in regular work and it's likely you'll end up working for mates rates.
Pictured: working for mates rates
The best way of finding work is usually through referral:
"Often a job would lead to another job and at no point did I have to advertise to find work… it just sort of found me. At the beginning I stayed with my parents, so there wasn't much risk involved in working for myself (no mortgage or kids or crippling drink habit), and it meant I could take my time figuring out how the whole thing worked; how to price jobs, how to invoice, how to prioritise, work with clients and ultimately deliver and get paid."
Freelancing is a lot like being a student, except hopefully with significantly more money and less drinking involved. You need to set your own deadlines, manage your time and deliver high quality work if you expect to do well. You can still eat badly and work in your pyjamas, though.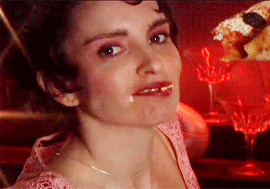 Mmm, breakfast
The business and finance side of freelancing can be a struggle and is probably something few people are prepared for, especially straight after graduation. Having some degree of financial security can mean time to figure these things out on your own but your best bet is asking for advice from someone self employed or talking to an accountant.
Financial uncertainty is one of the biggest risks of freelancing. Andrew decided when it came time to start a family and buy a house, he'd have more luck as a full time employee of someone else's business:
"In 2008 I jumped on the opportunity to take a 6 month contract working at Caley as a tutor for first and second year design students. When that finished I got myself a job back in Glasgow designing for WeeWorld. Working at WeeWorld granted me stability and the chance to concentrate on the personal aspects of my life."
Andrew's experience is somewhat backwards when compared with your average freelancer in digital. Most usually go from full time employment to freelancing, utilising the experience and skills (and maybe clients) they may have picked up while working for someone else for their own benefit. Andrew proves that with some great work, good presentation skills and the opportunity to get in front of the right people it's possible to kickstart a chain reaction of work that will allow you to set yourself up as a freelancer once you graduate. That said, it's equally possible you may struggle with the finance and business side of self employment and without good referrals and the right contacts, you aren't likely to make a regular income.
< Back to Stories